(Svensk text finns längst ner i inlägget.)
Chris (from Sweden) & Steindor (from Iceland, living in Sweden) met at Steindor's dad's horse farm in Sweden. They soon discovered that they didn't only share the love of Icelandic horses and Iceland, but to each other too. When they decided to get married, the choice was easy: Iceland!
Chris & Steindor arranged their destination wedding in Iceland in September. What can I say? Iceland is truly an amazing place on earth. An amazing setting for an outdoor wedding.
Weddings in Icelandic are called "Brudkaup", which literally means "buying the bride" and comes from way back in time, when the bride actually was bought. That was arranged on horse backs – Icelandic people live for their horses – the bride came with her father on a horse to the ceremony and the groom came with his father. Then the "brudkaup" was arranged within the ceremony and in the end the bride left with the groom.
Chris & Steindor wanted their wedding to be outside, rough and traditional. Chris was 7 months pregnant though, so Steindor wouldn't risk her being on a horse back and arranged a carriage for his bride and father.
The weather in Iceland can be very variegated. From sunshine to heavy rain in a couple of minutes. And it rains a lot in Iceland – 220 days a year! That's the downside of living on an island in the middle of the Atlantic. The bridal couple was hence prepared for a wet wedding, but wanted it outside no matter what. When I talked to Steindor, he told me about his favorite kind of rain – "sunrain" he called it. It's when it's sunny, yet it rains.
The day before the wedding it was sunny, freezing cold and windy. Nobody could believe their eyes on the day of the wedding. Sunshine and warm and calm, everything had settled. The morning started with a visit at the geysirs, before the preparations took part. The bride and groom made their preparations – Steindor and his dad took care of the horses. Both Chris and Steindor wore knitted Icelandic sweaters, made by Steindor's mom. Underneath Chris had a white dress sewn by her mom.
It was such a lovely day. In the far east you could se Hekla (the volcano), which often is covered by clouds and fog. Steindor and his dad came on horse backs from far, far away. From the other side, down a little hill, Chris and her dad appeared in a carriage. A man played the trumpet and a woman sang a traditional Icelandic love song. And then. When Chris and Steindor were about to say their wows, it suddenly struck us all. Sunrain!! A few moments later it was just sunshine again.
A magical moment. The love between the newlyweds, the sunrain, the sun, the setting. And off they went, together for life.
After the ceremony we went to "Reykja Rettir" for the portrait session. That is an old arrangement for separating the sheep when taken down from the mountains in fall time, still in use to this date.
The reception took place at Hestakrain, where both Chris and Steindor have been several times for horse back riding in the mountains. Icelandic people have kept many of the Nordic, old traditions and tales. Around the farm the owner of Hestakrain, Duna, has made small houses for the "vättar" (gnomes) to live in. You don't want them as your enemies, so you better please them!
The night was chilly and as a perfect ending the northern light made a fabulous play on the sky.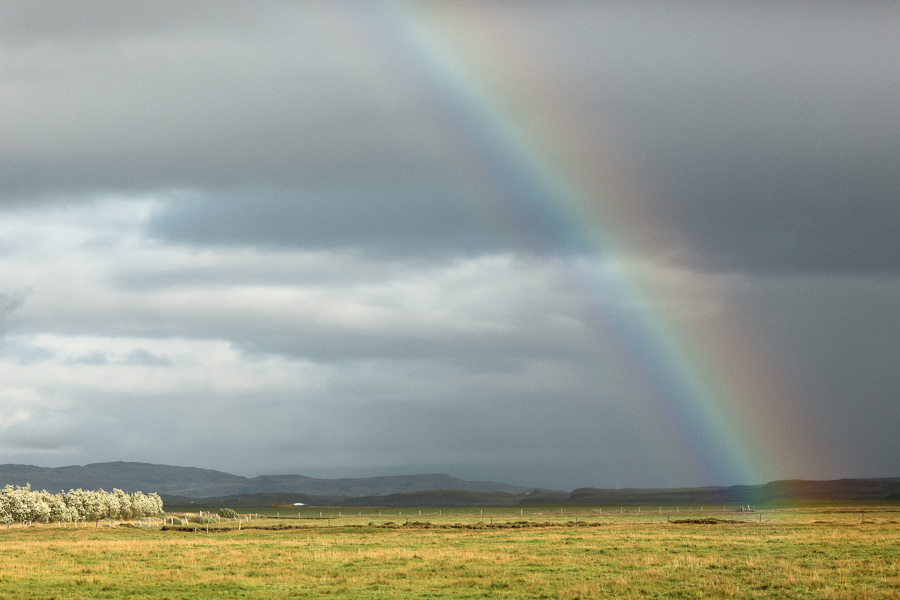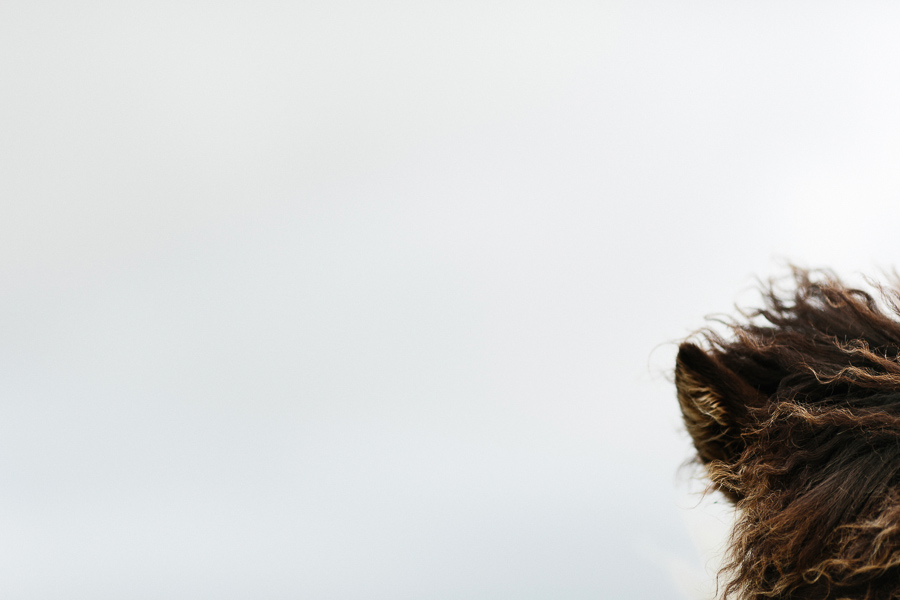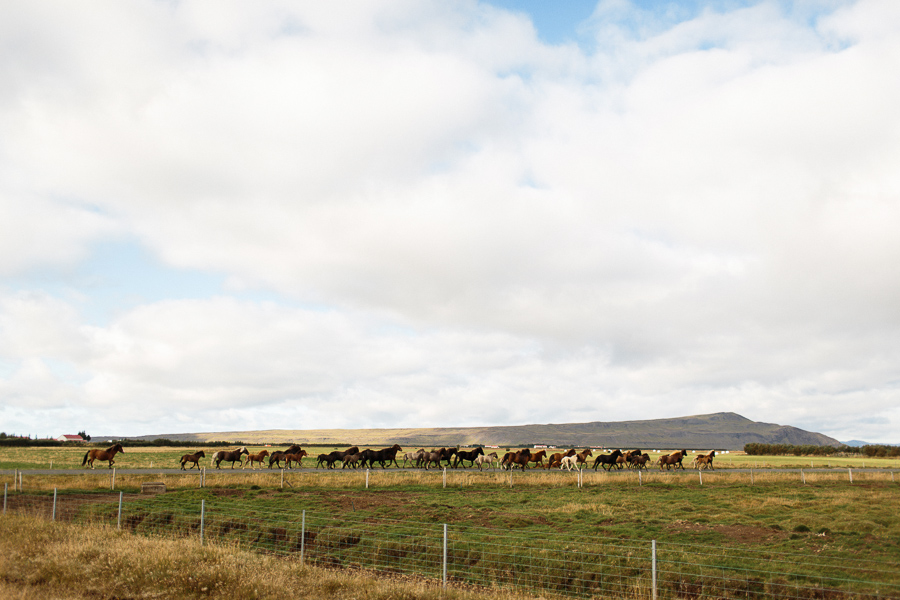 Chris (från Sverige) och Steindor (från Island) träffades på Steindors pappas hästgård utanför Kristianstad i Skåne, där Chris hade sin islandshäst. De insåg snabbt att de inte bara delade kärleken för islandshästar och Island, utan även för varandra. De blev ett par och när de beslöt sig för att gifta sig blev valet enkelt: bröllopet skulle vara på Island!
Chris & Steindor arrangerade sitt destinationsbröllop på Island i september. Orden räcker inte till. Island är en så fantastisk plats på vår jord. En utomhusvigsel i vildmarken är ren magi.
På isländska kallas bröllop för "brudkaup", vilket bokstavligt talat betyder "brudköp". Det går långt tillbaka i tiden, då bruden faktiskt blev just såld av sin pappa. Brudköpet arrangerades till häst – islänningar lever för sina hästar – bruden anlände tillsammans med sin far och brudgummen anlände tillsammans med sin far. På varsin hästrygg. När ceremonin och brudköpet var över, red bruden iväg tillsammans med sin brudgum.
Chris & Steindor ville ha en traditionell, isländsk utomhusvigsel. Chris var dock i sjunde månaden av graviditeten, så Steindor ville inte att hon skulle rida till vigselceremonin. Han fixade i stället häst och vagn, så att de fortfarande kunde komma med häst men på ett säkrare sätt.
Vädret på Island kan vara minst sagt lynnigt. Från strålande sol till ösregn inom loppet av några minuter. Och det regnar en hel del på Island – 220 dagar om året! Chris & Steindor var således mentalt förberedda på en blöt ceremoni, men de ville hålla fast vid att den skulle vara utomhus. Det finns regnkläder! Steindor och jag pratade en del om regn och han berättade om den sorts regn som han tycker mest om – "solregn" kallade han det. Det är när solen värmer, samtidigt som det regnar lätt.
Dagen före bröllopet var en solig, men väldigt kall och blåsig dag. Ingen kunde tro sina ögon när vi vaknade på dagen för bröllopet. Solen sken, det var varmt och vindstilla (det är i princip aldrig vindstilla på Island, har man berättat) – allt hade lugnat ner sig.
Dagen började med ett besök vid gejsrarna, innan det var dags att göra sig i ordning. Steindor och hans pappa tog hand om hästarna och red iväg. Både Chris och Steindor bar islandströjor som Steindors mamma hade stickat. Under den bar Chris en vit klänning som hennes mamma hade sytt.
Det var en helt ljuvlig dag. I öster kunde vi se vulkanen Hekla, som oftast är täckt av dimma och moln. Vi såg små, små figurer uppenbara sig långt borta – det var Steindor och hans pappa som kom ridande. Från motsatt håll, nedför en liten backe, kom Chris och hennes pappa med häst och vagn. Förväntningarna dallrade i luften. En man spelade trumpet och en kvinna sjöng en traditionell isländsk kärleksvisa. Sedan. När det var dags att utbyta löftena, då kom det. Ett lätt, stilla solregn. Leenden som sprack upp över allas ansikten. En liten stund senare var det bara solsken kvar.
Ett magiskt ögonblick. Kärleken mellan brudparet, solregnet, solskenet, omgivningarna. Och iväg for de, tillsammans för livet.
Efter vigseln tog vi oss till "Reykja Rettir" för att ta porträttbilder. Det är en gammal anläggning av sten som än idag används på hösten, när man ska skilja fåren åt som har varit i bergen under sommaren.
Mottagningen hölls på Hestakrain, där både Chris och Steindor har varit flera gånger tidigare innan de träffades. Från Hestakrain arrangeras turridningar upp i bergen, dit inga vägar leder.
Islänningarna har hållit fast vid många av de fornnordiska myterna och traditionerna. Runt gården har Duna, frun på Hestakrain, byggt små hus till vättarna att bo i. Man vill inte bråka med vättarna, utan det gäller att vara dem till lags!
Natten var klar och kall. Som en perfekt avslutning på en perfekt dag, fick vi se ett fantastiskt norrsken spela över himlen.
Fantamagiskt!