Lina & Kave gifte sig i Stockholm en av sommarens få regniga dagar. Men det vet vi ju alla att regn är ett gott tecken, när det gäller bröllop, åtminstone om man ska gå på gammalt skrock (och det måste man väl få göra som plåster på såren?!)! Regn kan dock vara väldigt effektfullt. Och bidra till både extra mys och vackert ljus. När vi tog porträtten efter vigseln, alldeles ensamma sånär som på en gräsand, med regnet smattrande, var det väldigt mysigt. Att kronprinsessan Victoria hade skickat en personlig gratulationshälsning till brudparet gjorde sitt till den härliga känslan.
Lina & Kave ville ha ett stilrent och klassiskt bröllop, där det viktigaste för dem var att det blev en riktigt bra och rolig fest. Vi vågar påstå att alla närvarande kan understryka den punkten – även vi! Stilrent och klassiskt var det också, med en stilren, vit klänning, stram uppsättning och klassisk make up för Linas del och en skräddarsydd kostym från Italien för Kaves del. Vi älskade även hans coola kombination med bälte, strumpor och manschettknappar!
Tack Lina & Kave för att vi fick vara en del av er fantastiska dag!
—IN ENGLISH—
Lina & Kave married in Stockholm one of the summer's few rainy days. Rain can be very effective. And it contributes to the extra cosiness and beautiful light. When we took the portraits after the ceremony, all alone except for a mallard, with the rain pattering, it was very cozy. Also the fact the Swedish Crown Princess Victoria had sent a personal congratulatory message to the bride and groom, made it extra special.
Lina & Kave wanted a stylish and classic wedding, where the most important thing for them was that it was a really good and fun party. We dare to say that everyone present can emphasize this point – we also! Stylish and classic it was too, with a sleek white dress, tight set and classic make up for Lina's part and a custom-made suit from Italy for Kave's part . We also loved his cool combination with belt, socks and cufflinks!
Thank you Lina & Kave for letting us in on your fantastic day!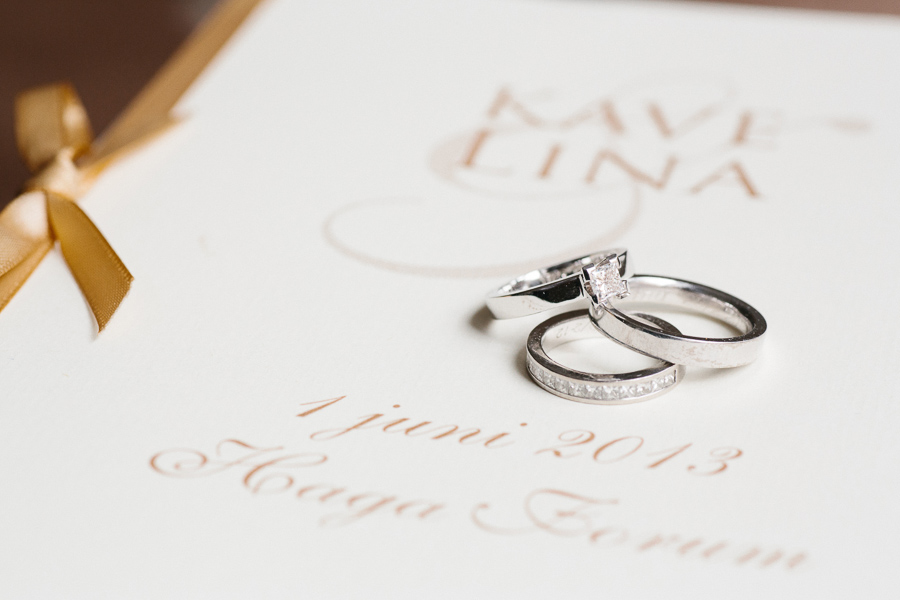 Hair: Salong Stilsäker
Make up: Ola Sandström, Annakliniken
Ceremony: Kungsholms kyrka
Venue: Haga Forum
Flowers: Bernzons blommor
Wedding cake: Handgjort Stockholm
Wedding dress: Ateljé Stass
Bridesmaid's dress: H&M
Tailor: Mabro, Toscana, Italy